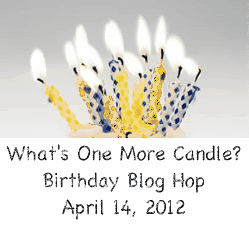 Happy Birthday to me, Happy Birthday to me!
Happy Birthday to you, Happy Birthday to you!
All my rowdy friends are coming over to party!
At this blog hop, it's a party!! Our fellow blog creators have come up with awesome projects from cards, to decor, to all sorts of ways to make your Birthday bash the best! Here at this hop, you get all the pre
sents! Many of the blogs will offer their own "presents" (blog candy) and I'll be giving away a Cricut Cartridge- Birthday Bash!
I had some yummy birthday cake to put in an envelope but the frosting just wouldn't stay on so instead, if you leave me a comment and follow my blog or sign up for email updates,
I'll send you some blog candy!!!!


You should have come from
PAULA
If you didn't, you might want to go back and check. They could be wearing a lampshade if they've partied to much...
From here you need to go to
CATHY
If they're getting rowdy, just join in all the fun! Have fun!
She'll be checking id's... just kidding... this is a famiy friendly event! And Happy Birthday to you! I'm either early or extremely late in wishing you a Happy Birthday, but it's the thought that counts!
Happy Birthday
"OLD"
Blogger
Friend!
I created this card to celebrate Janet's
BIG
Birthday ! I've been there and know how odd it feels when your head says you are ???? old and your body differs!!!
The digi stamp is from Bug A Boo and I used my Promarkers to color her. I loved how the glittered "Stickles" frosting looks on her cake & candles.
The balloons were cut with my Sizzix and the yarn is from IRIS Co.
The paper is from the Martha Stewart Birthday collection.
Inside of card
One last thing before you go hopping on to CATHY, leave me some cake...NO I mean a comment about getting "OLDER". It's my birthday on the 20th so I share in Janet's excitement about aging gracefully! Oh, did I mention I have a birthday present for one of

YOU

!!!
Don't forget your email addy because I'm not using my GPS to find you!!